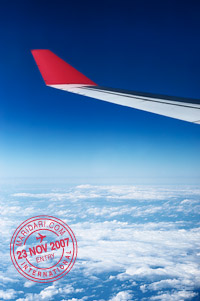 Narita Airport, Tokyo, Japan
The first thing I did when we set foot in Narita Airport was to visit the loo, which was spotless. The airport in general was very clean and there were a number of very polite ushers showing us where to queue to get our passports checked, which was really helpful.
I've always had problems with fingerprint scanning systems but I wasn't prepared to take more than 5 minutes to get my fingerprints to register with the Japanese system (the fingerprint scanners and cameras were installed a few days prior to our arrival). Was it because of my sweaty palms?
Fortunately we managed to get our Narita Express (N'EX) "money-saving tickets" and Suica card at the travel office without any drama. The officer asked for our passports and alighting station (which was Shinjuku). Within minutes, we got our N'EX tickets and Suica card.
This is the entrance to the JR Narita station. We were at Terminal 1 so the travel office to purchase the Suica & N'ex package is directly opposite the entrance of this station.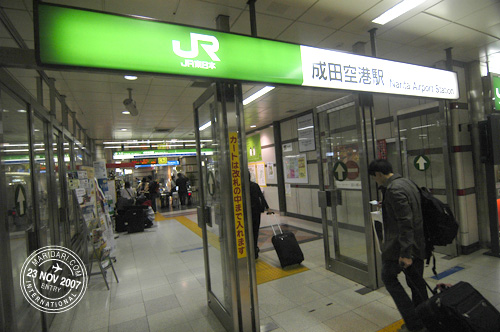 Suica & N'ex Package
The Suica & N'EX package costs only 3500 yen and includes a ticket for Narita Express service to JR Tokyo, Shinjuku or Yokohama station and a rechargeable Suica card (a contactless smart card) with 1500-yen value you can use for travel on most railways, subways, and buses in Greater Tokyo.
More about the Suica & N'EX package and where to buy.
N'EX (Narita Express)
The N'EX takes less than an hour to reach Tokyo Station and about 80 minutes to reach Shinjuku Station. The trains are clean and comfortable. You can buy drinks from the vending machines inside the train and even snacks from the pushcart lady who will pass at least once on the trip.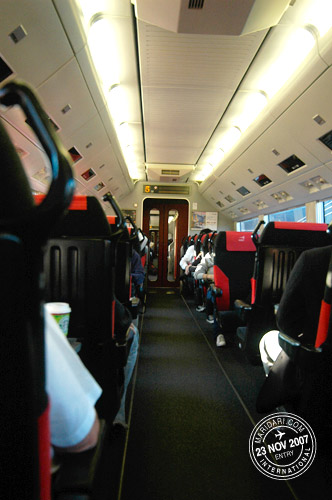 Next stop, Shinjuku Station (Tokyo Day 1 Part 2)!
Related Posts
Tags:
asia
,
images
,
japan
,
journal
,
n'ex
,
narita airport
,
narita express
,
suica
,
tip
,
tokyo
,
tokyo day 1
,
transport
Filed in:
asia
,
japan
,
journal
,
tokyo
,
transport
Do you have something to add? Please leave a comment.
You can also subscribe to our feed to get future articles delivered to your feed reader for free.