In our previous post, we wrote of our arrival at Narita Airport (Tokyo Day 1 Part 1).
Shinjuku Station
We didn't know that Shinjuku station is the busiest station in the world so imagine our shock when we arrived and saw the sheer number of people there! There were so many people! And they were moving so fast! If you have young children with you, please be extra careful. One blink and you can lose them in the crowd! When we got separated by a 3-metre-wide, rapidly-flowing human river, it took Dari an eternity to cross over to my side.
"The average number of daily users at Shinjuku Station is 3,315,631, which is the largest number in the world." Wikipedia
Here's a picture taken from a "not-so-crowded" part of the station. Yikes!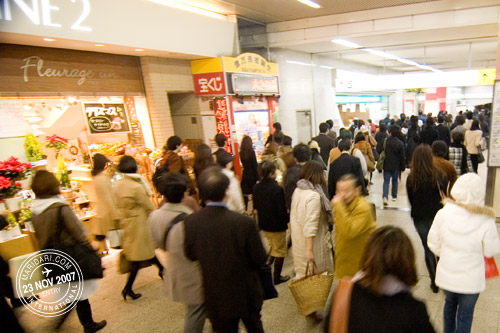 4:30pm on Friday in Shinjuku is not the best time to be lugging huge and heavy suitcases as we found out. The wheels of my trolley bag ran over the toes of at least 3 people in the crowd, who were moving too hurriedly for me to offer an apology. I'm sorry Tokyoites! (You may want to consider using Takuhaibin or delivery service to get your luggage from the airport to the hotel.)
We also underestimated the massiveness of Shinjuku Station, which by the way is the second largest in the world after Nagoya station, and got totally disorientated when we got out the wrong exit.
First Meal in Tokyo
Depachika – Eating on A Budget in Tokyo
About 1 to 2 hours before closing time, the food sections at the basement levels of department stores, called depachika, will start selling off their goods at discounted prices, a good deal for those looking to try different types of food at affordable prices.
After checking into Oakwood Apartments Shinjuku (very friendly staff), we went to the food hall at the basement of Odakyu HALC. There were so many food to choose from. One of the shopkeepers was very polite and friendly towards us and tried explaining the discounted prices in her best English. I really appreciated her effort so we bought two boxes of premium sushi sets (880 yen total, which is fair for a premium set of 16 pieces) from her.
Finding a place to sit to eat our sushi was a little difficult. In the end we decided on sitting near the dimly lit parapet outside the store. It was a very cold and very dark dinner. :|
After finishing our food (which was nice if not for the fact that we (and the sushi) were very cold) there was another problem – we couldn't locate a rubbish bin. -_-"
Shinjuku
Shinjuku at night is an assault to the senses. There are so many neon signs everywhere and the streets looked like they were lit by giant spotlights. There are of course, a lot of people, all intently rushing somewhere. Each time you pass by a store, you will be greeted by enthusiastic shouts of "Irashaimase!" (welcome). Despite the manic pace and crowded environment, everyone is very polite and everything is clean and orderly.
If you are not a big city fan, this place will drain you out pretty fast. Fortunately, I love the city life – bright lights, noisy chatter, all that stuff. :)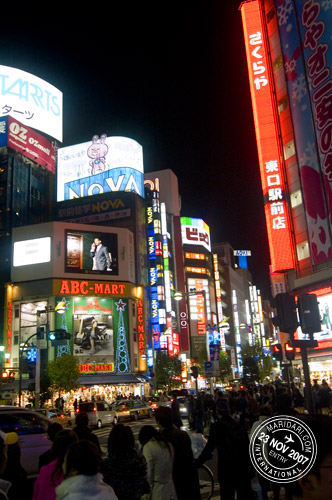 Next, we went Hanazono Shrine and Kabukicho (Tokyo Day 1 Part 3).
Related Posts
Tags:
asia
,
images
,
japan
,
journal
,
shinjuku
,
shinjuku station
,
tokyo
,
tokyo day 1
Filed in:
asia
,
japan
,
journal
,
tokyo
Do you have something to add? Please leave a comment.
You can also subscribe to our feed to get future articles delivered to your feed reader for free.