We had our first taste of Shinjuku (Tokyo Day 1 Part 2). After that, we explored the Hanazono Shrine and  the red light district Kabukicho.
After dinner, we decided to take a look around Kabukicho. We somehow wandered into a crowded Hanazono Shrine.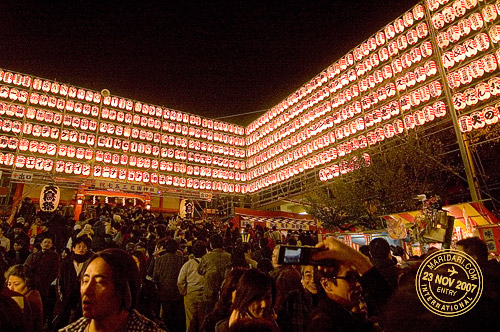 There was a fair going on – tori no ichi (open air market on the days of tori or rooster) – and a lot people were carrying what looked like decorated fans on sticks. (We found out later at a free tour at Tokyo Metropolitan Government Building that these are actually bamboo rakes called kumade ). Each time someone bought a rake from one of the stalls, the shopkeeper and people around the stall did a short clap and chant routine.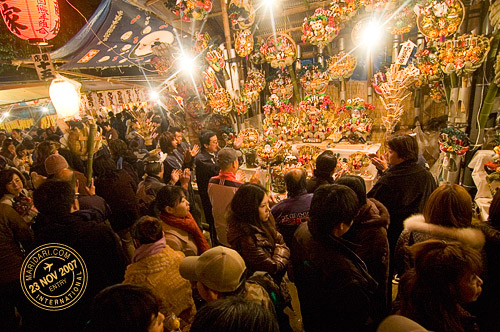 The street hawkers in the vicinity of the temple were selling grilled squids on skewers, red bean pancakes and yaki soba (a kind of stir-fried noodles). The smells were so deliciously tempting but we just had dinner so we wriggled our way out of the crowd.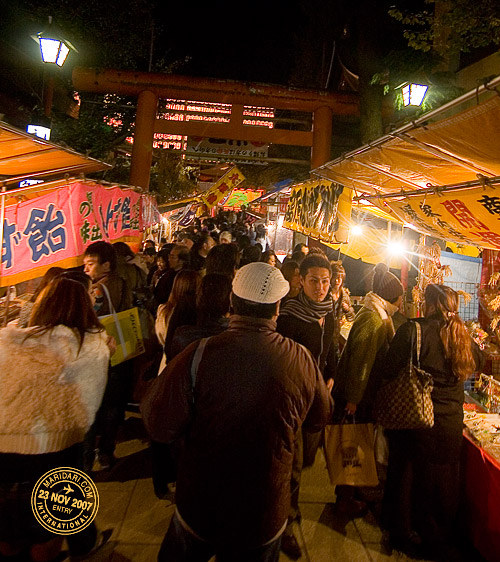 We saw a pet store with some very cute kittens and puppies on sale at an intersection of two quiet alleys. A man was belting out heart-felt but terribly off-pitched Christmas songs beside the store. He was also selling home-made CDs, presumably of the songs he was singing. Though we applauded his spirit, we questioned his venue of choice as there was no one else watching his performance at the dark and isolated junction.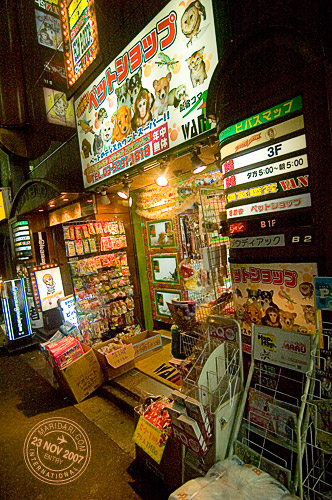 Having carried a huge plastic bag full of chopsticks and bits from our sushi dinner for the past two hours, I was relieved to finally find a rubbish bin at a back alley. Liberated by my trash-free status, we're ready to explore deeper into the heart of Kabukicho, Shinjuku's red light district.
There were two distinct groups of men at Kabuki-cho – the yakuza-type – stern-looking older men in smart suits, sunglasses(even at night) and short hair – and the bishonen (a kind of pretty boy seen in mangas and animes)– lean younger men in longer, slim-cut dandy suits, pointy boots and spiky, bleached hair. Both types did not look too happy to see us silly tourists with our cameras, so we were hesitant to take anything but caution whilst walking through the area. No pictures! :(
After that, we made our way back to the apartment but not before getting something to eat. We bought two sets of zaru soba (cold buckwheat noodle with a dipping sauce), two sets of ebi tempura (prawn in batter) with rice and a 2-litre bottle of Pocari Sweat at the kombini (convenience store) near our apartment.
Early night! Tomorrow we have to be up at 0500 for the Tsukiji market experience!
The next day, we visited Tsukiji Market (Tokyo Day 2 Part 1), Ginza (Tokyo Day 2 Part 2) and Odaiba Marine Park (Tokyo Day 2 Part 3).
Related Posts
Tags:
asia
,
hanazono shrine
,
images
,
japan
,
journal
,
kabukicho
,
places of worship
,
red light district
,
shinjuku
,
temples
,
tokyo
,
tokyo day 1
Filed in:
asia
,
japan
,
journal
,
tokyo
Do you have something to add? Please leave a comment.
You can also subscribe to our feed to get future articles delivered to your feed reader for free.