The day before, we arrived at Narita Airport (Tokyo Day 1 Part 1), Shinjuku (Tokyo Day 1 Part 2), and went around Hanazono Shrine and Kabukicho (Tokyo Day 1 Part 3).
Our first stop for today is Tsukiji Market. Train Station: Tsukijishijo
The day started with us waking up at 6 am instead of 5 because I'd forgotten to adjust my phone clock to Tokyo time! (Mental note: Remember to set phone to auto time zone detect mode). We should have used the apartment clock instead. Oh well…
To get to Tsukiji, we took the Toei Subway-Oedo Line from Shinjukunishiguchi station to Tsukijishijo station. We had no problems with train routes and transfers as we'd mapped this out in detail in the weeks leading to this trip.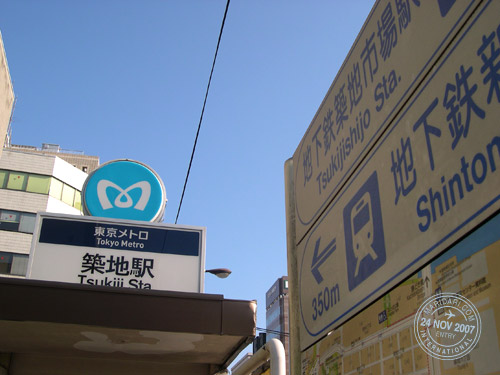 Tsukiji Market
Tsukiji was still buzzing with energy when we reached there at about 7:30am. There were a lot of motorised carts – the main body of the vehicle resembled fat LPG cylinders with steering wheels – carrying goods of the sea whizzing by only centimetres away from you. This is not a place for hyperactive young kids or tree sloths, everything moves in fast forward and dangerously close to your feet.
Long queues were seen at all the sushi houses in the vicinity so we skipped the idea of having sushi there and instead made our way through the little market alleys to visually savour the sight of fresh sea creatures. A big red octopus was still squirming. There were a lot of tiny fishes and a lot of big fishes. And there were many, many other fantastic and weird-looking beings. I didn't know the names of any of the things I saw.
Tragically our Tsukiji pictures didn't make it to our hard disk. This is one of the very few evidence we have of our trip there… a sign 350m away…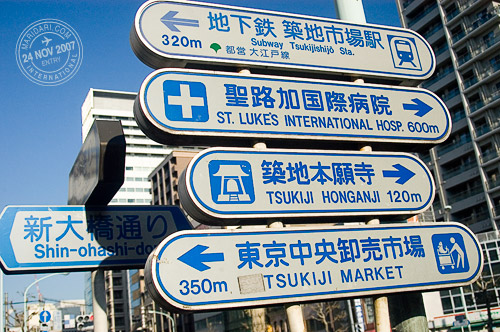 The area where I saw a man using a machine to shave fish into paper-thin slices — the birthplace of bonito flakes!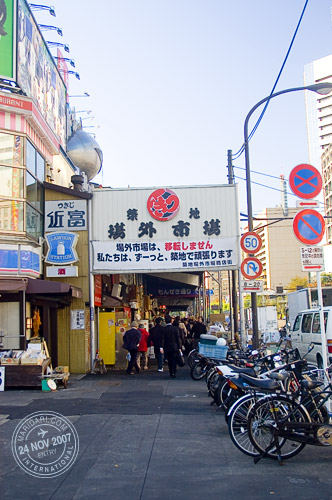 At 10 am, it was too early to check out Ginza, so we went to McDonald's for coffee. The coffee was cheap at 100 yen each, but the cups were only ¾ filled. We also got our first experience with multi-compartmented rubbish bins. You are supposed to dump your rubbish into separate plastic, paper, solid and liquid food waste sections for ease of disposal and recycling. I accidentally threw the plastic cream containers into the paper section. Oops! :P
Note the amount of coffee considered a "full cup" and thin sugar sticks. :)

Next we went to Ginza (Tokyo Day 2 Part 2).
Related Posts
Tags:
asia
,
images
,
japan
,
journal
,
markets
,
mcdonald's
,
tip
,
tokyo
,
tokyo day 2
,
transport
,
tsukiji
Filed in:
asia
,
japan
,
journal
,
tokyo
Do you have something to add? Please leave a comment.
You can also subscribe to our feed to get future articles delivered to your feed reader for free.