Previously, we were at Ginza (Tokyo Day 2 Part 2). We went to Odaiba Marine Park next. Train Station: Shimbashi, Aomi, Daiba
Our next stop was Shimbashi station, where we purchased a one-day open pass for the Yurikamome Line which goes through all the main attractions of Odaiba. The one-day open pass costs 800 yen and entitles you to unlimited rides on the Yurikamome Line for one day, which is a very good deal if you want to explore the place.
We took the train all the way to the last stop, Toyosu. The ride takes about 20 minutes one-way and it is a good way to see most of Odaiba Marine Park has to offer without tiring yourself out.
This is the Rainbow Bridge portion of the track.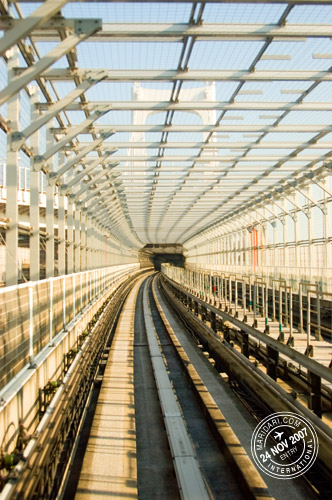 The Daikanransha or Palette Town Ferris Wheel, one of the largest ferris wheels in the world.
Odaiba was okay, but it wasn't our kind of place. There were a lot of families with young children there, so there's probably plenty to do and see for the family. There were also a lot of people with dogs of all sizes everywhere, I'm not sure if there was a dog fair going on at that time or if the place is pet-friendly.
Our main reason for going there was to see the Rainbow Bridge. After taking a few obligatory shots of the bridge, we sat down at Decks Tokyo Beach…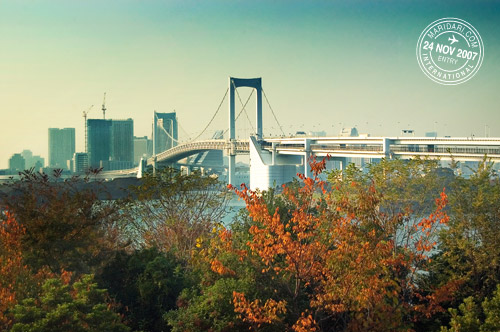 … and watched the sun set.
The weather was wonderfully cool and there was an air of serenity about the place. As the sky turned from blue to red my thoughts were filled with gratitude, awe, love and… the need to pee.
And what a place to have the urge. The toilet near the beach was, GASP, FILTHY, and not just by Japanese standards. Dar reasoned that toilets in places closer to nature tend to be dirtier, something to do with connecting with our, inner carnal beasts. I didn't come all the way to Tokyo to get dirty toilets so I took a 5-minute hike back to Aquacity to find a Kingdom of Privacy worthy of my royal bum.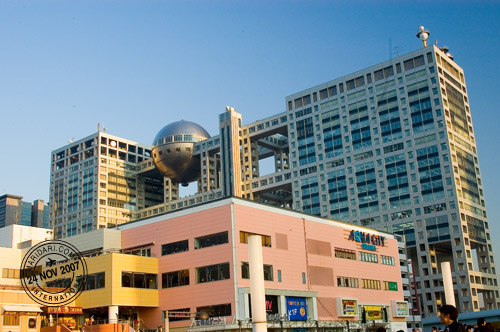 In the toilet at Aquacity, my behind warmed to the right temperature, senses calmed with soothing aromatherapy oils, gentle muzak enveloping me and the sounds of my earthly farts, I was in love with Tokyo again.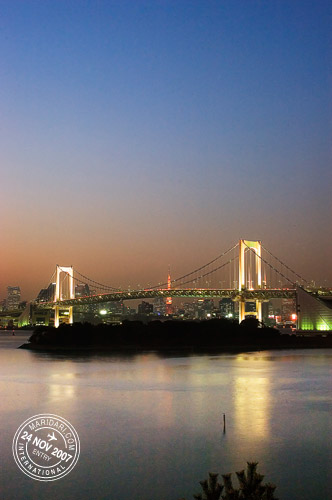 The next day, we checked out Yoyogi Park(Tokyo Day 3 Part 1), Harajuku kids cosplayers (Tokyo Day 3 Part 2), Maid Cafe cosplayers at Akihabara Electric Town (Tokyo Day 3 Part 3) and Tokyo City View, Mori Tower, Roppongi Hills (Tokyo Day 3 Part 4)
Related Posts
Tags:
aquacity
,
asia
,
fuji television
,
images
,
japan
,
journal
,
odaiba marine park
,
tokyo
,
tokyo day 2
,
yurikamome line
Filed in:
asia
,
japan
,
journal
,
tokyo
Do you have something to add? Please leave a comment.
You can also subscribe to our feed to get future articles delivered to your feed reader for free.