After our lovely visit to Shinjuku Gyoen National Garden (Tokyo Day 7 Part 2), we visited Marui Young, a fashionable department store in Shinjuku, with 4 floors dedicated to Gothic, Lolita and street fashion.
A Marui department stores are identified by its logo which looks like 0101.

Maru means circle and i or ichi means 1(one). There are a couple of Marui in Shinjuku – Marui Men, Marui City 1, Marui City 2, and Marui Young/ Marui One. Marui Young is located at Shinjuku, 3-18-1 Shinjuku, Shinjuku-ku.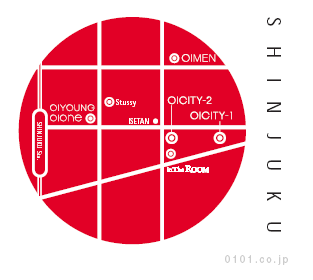 We went to Marui Young for a bit of window shopping. We were initially very confused with the name of this outlet. Is it Marui One or Marui Young? The display at the ground floor level of the building labelled MaruiYoung in guides, showing what's available at MaruiOne (OIONE Shinjuku at the top left corner of the poster).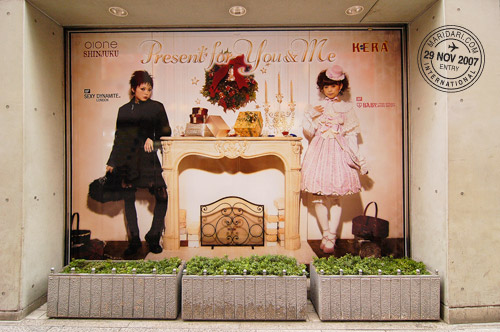 Marui Young (OIYoung) or Marui One (OIONE)?
From what I understand, Marui Young used to be known as MaruiOne. But looking at the floor directory, it seems that Marui One is currently a sub-branding under MaruiYoung, that is MaruiOne (4 floors dedicated to Gothic Lolita and Punk fashion) is a subset of MaruiYoung(the department store). MaruiOne Shinjuku is also known as OneJuku.
Gothic and Lolita is a fashion sub-culture among Japanese youths. It is heavily influenced by elements from the Victorian/Edwardian era and Roccoco style.
There are 9 floors in Marui Young. The basement floors up to the 4th floor, showcases your average department store women's wear and accessories. (When I say average, I meant average for Japan, which is still light years ahead of the rest of us in terms of fashion) You can find shoes, bags, lingerie, hats and of course, clothes, from brands such as Just Amorica, OZOC, Auntie Rosa, Pageboy, Super Hakka, Franche Lippe, Olive des Olive, Cocue, Lowrys Farm. The 9th floor is dedicated to plus size clothing for everyday and party and formal events.
The 5th – 8th floors of Marui Young Shinjuku are packed all the things you need to be a Lolita variant of your choice Elegant Gothic/Punk/Sweet/Classic – frilly dresses, petticoats, capes, parasols, head dresses.
5th floor: SiXh by Naoto Hirooka, Moi Meme Moitie , Alice Auaa , Excentrique , Jane Marple
6th floor labels include: Kerashop Arena: Cutie Flash, Royal Funny, Shot Gun Wedding, FOtus, Blue Bird Black Bird, Hell Cat Punks, Hyper Core, Listen Flavor, Zoestyles, MA, Katoken, Toxic Star, Sexpot Revenge, Stone Angel, Black Cat Moon, Super Lovers; Sexy Dynamite London
7th floor labels include: Algonquins, Peace Now/Black Peace Now, no future, and women's and men's shoes from labels such as Kera, Dr. Martens, Yosuke, Landrootie, Ashinaga Ojisen, GettaGrip, Underground, An-ten-na
8th floor labels include: Kera Shop Angel: Innocent World, Juliette et Justine, Atelier Boz, Lapin Agile, Victorian Maiden, MAM, Mary Magdalene, Chocochip Cookie, Millie Fleurs, Mille Noirs, La Croix Noire, Lost Angel, Candyfruit, Angelic Pretty, Ribbon xx Ribbon, Coquettish Tiara, Candy Fruit, NilePerch, Candy Fruit; Baby, the Stars Shine Bright, Emily Temple Cute, Metamorphose, Miho Matsuda, Heart E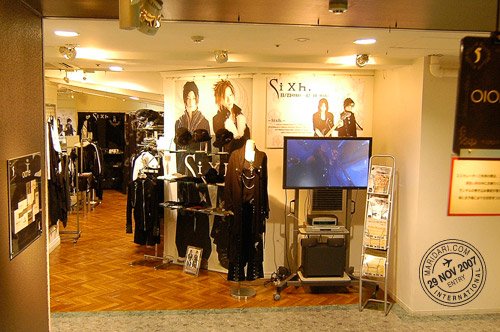 Please note, if you plan to visit Marui One at Marui Young Shinjuku, in order to blend in, it is advisable to:
1) wear an all-black ensemble and try to look like a punk/goth vampire or;
2) be clad head to toe frilly in pink and try to look like a living Victorian doll.
Needless to say, visiting Marui One made us felt as though we were from another planet.  -_-"
On our last day in Tokyo, we visited Tokyo Metropolitan Government Building (Tokyo Day 8 Part 1) and Kabukicho(Tokyo Day 8 Part 2).
Related Posts
Tags:
amaloli
,
asia
,
fashion
,
gosuloli
,
gothic lolita
,
gothloli
,
harajuku
,
images
,
japan
,
journal
,
lolita
,
marui
,
marui one
,
marui young
,
maruione
,
maruiyoung
,
punk lolita
,
shinjuku
,
street fashion
,
sweet lolita
,
tokyo
Filed in:
asia
,
japan
,
journal
,
tokyo
Do you have something to add? Please leave a comment.
You can also subscribe to our feed to get future articles delivered to your feed reader for free.