Where on Earth is Europe?
Geographically, Europe is situated at the westernmost peninsula of the continent of Eurasia. Politically, Europe comprises countries in the European Union. The big mass of land of the left (physically located near the continent of North America) is Greenland, a self-governing province of Denmark.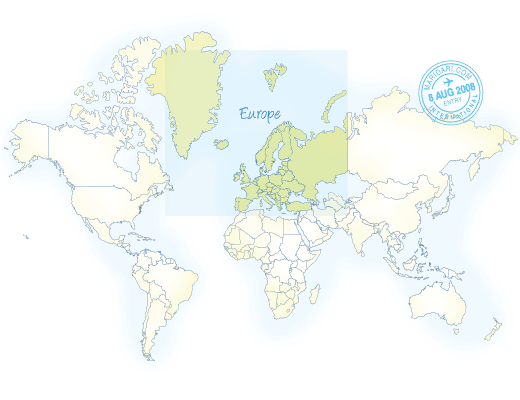 Map of European Countries
Map not to scale, Iceland is much farther than illustrated here. Not shown on this map – Kazakhstan (south of Russia) and Armenia, Georgia, Azerbaijan (East of Turkey).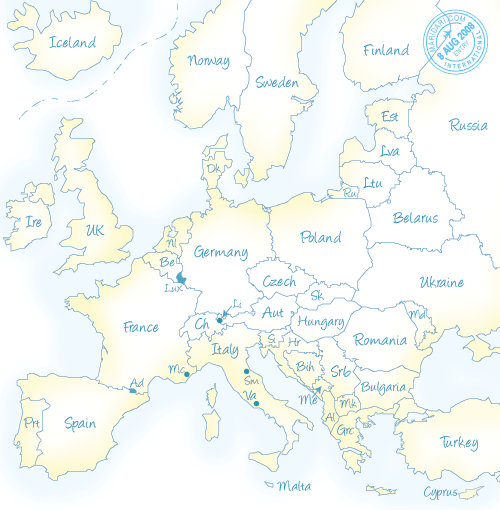 Countries of Europe – List of Sovereign States and Capital Cities
List of sovereign states using official short name in English, followed by ISO 2-letter and 3-letter country code (which may be different from IOC 3-letter country code enclosed in brackets) and capital cities in Europe. This list does not include non-sovereign, partially-recognised or unrecognized republics, territories or regions.

A | B | C | D | E | F | G | H | I | K | L | M | N | P | R | S | T | U | V | bottom
A
Albania AL, ALB – Tirana
Andorra AD, AND – Andorra la Vella
Armenia AM, ARM – Yerevan
Austria AT, AUT – Vienna
Azerbaijan AZE – Baku
B
Belarus BY, BLR – Minsk
Belgium BE, BEL – Brussels
Bosnia and Herzegovina BI, BIH- Sarajevo
Bulgaria BG, BGR (BUL)- Sofia
C
Croatia HR, HRV (CRO) – Zagreb
Cyprus CY, CYP- Nicosia
Czech Republic CZ, CZE- Prague
D
Denmark DK, DNK (DEN)- Copenhagen
E
Estonia EE, EST – Tallinn
F
Finland FI, FIN- Helsinki
France FR, FRA- Paris
G
Georgia GE, GEO – Tbilisi
Germany DE, DEU (GER)- Berlin
Greece GR, GRC (GRE) – Athens
H
Hungary HU, HUN- Budapest
I
Iceland IS, ISL- Reykjavík
Ireland IE, IRL – Dublin
Italy IT, ITA – Rome
K
Kazakhstan KZ, KAZ – Astana
L
Latvia LV, LVA (LAT) – Riga
Liechtenstein LI, LIE – Vaduz
Lithuania LT, LTU – Vilnius
Luxembourg LU, LUX – Luxembourg
M
Macedonia, the Former Yugoslav Republic of MK, MKD – Skopje
Malta MT, MLT- Valletta
Moldova MD, MDA – Chinsinau
Monaco MC, MCO (MON) – Monaco
Montenegro ME, MNE – Podgorica
N
Netherlands NL, NLD (NED)- Amsterdam
Norway NO, NOR- Oslo
P
Poland PL, POL- Warsaw
Portugal PT, PRT (POR) – Lisbon
R
Romania RO, ROU- Bucharest
Russian Federation RU, RUS – Moscow
S
San Marino SM, SMR – San Marino
Serbia RS, SRB – Belgrade
Slovakia SK, SVK- Bratislava
Slovenia SI, SVN (SLO) – Ljubljana
Spain ES, ESP- Madrid
Sweden SE, SWE- Stockholm
Switzerland CH, CHE (SUI) – Bern
T
Turkey TR, TUR – Ankara
U
Ukraine UA, UKR- Kiev
United Kingdom* GB, GBR – London

V
Vatican City VA – Vatican City
*The United Kingdom is composed of the constituent countries England, Scotland, Wales, and Northern Ireland.
A | B | C | D | E | F | G | H | I | K | L | M | N | P | R | S | T | U | V | top
List of European Countries on Wikipedia
Did we miss anything? Is the information above inaccurate? Please leave a comment, thank you.
Related Posts
Tags:
capital cities
,
cities
,
continents
,
countries
,
europe
,
european cities
,
european countries
,
european union
,
list
,
maps
,
world
Filed in:
europe
,
general information
Do you have something to add? Please leave a comment.
You can also subscribe to our feed to get future articles delivered to your feed reader for free.