The local name for Prague is Praha. Note that Czech Republic is not covered by the Eurail Global pass. List of Prague attractions. Here are some "must-see" locations.
Old Town Square (Staromestske Namesti)
A lot of people here! And rightly so, the square is framed by gorgeous buildings.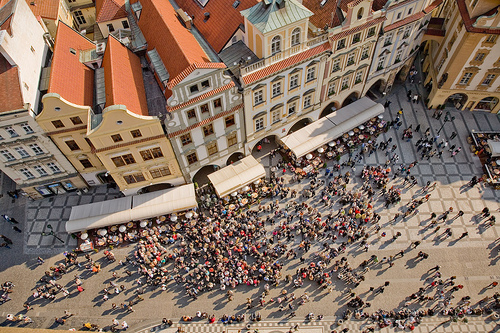 Photo by Pithawat Vachiramon
On the left is the Astronomical Clock (Prague Orloj). In the background on the right, you see the gothic Church of Our Lady in front of Týn .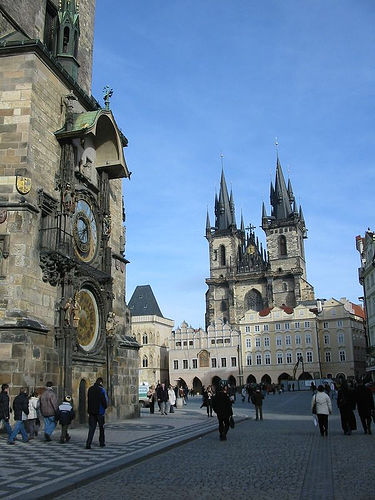 Photo by Chris (share alike)
Charles Bridge
This 0.5 kilometer-long stone bridge connects Old Town with Mala Strana (Lesser Town), near Prague Castle. There are Baroque statues on both sides of the bridge, including one of Charles IV, the bridge's namesake.
Photo by Jake Liefer
Prague's New Town
Though guidebooks generally recommend a visit to the Jewish Quarter (Josefov) in the Old Town area to see the Old Jewish Cemetary, Pinkas, Klaus, Old-New, Maisel and Spanish synagogues, we feel that the Jerusalem Synagogue is visually the most interesting . Apparently, it's on a street called Jeruzalemska which is in the New Town but we couldn't find it on the map!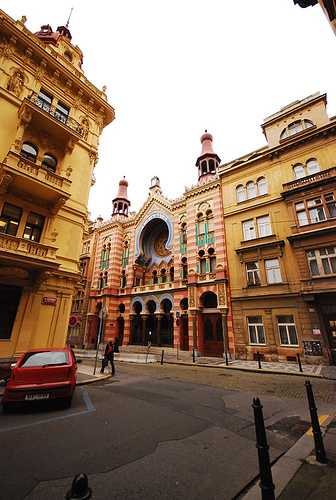 Photo by Ximena del Campo
The New Town is the location of two other attractions that we're keen on – The Mucha Museum, which houses the works of Art Nouveau artist Alphonse Mucha and the weirdly wonderful "Fred and Ginger" Dancing House: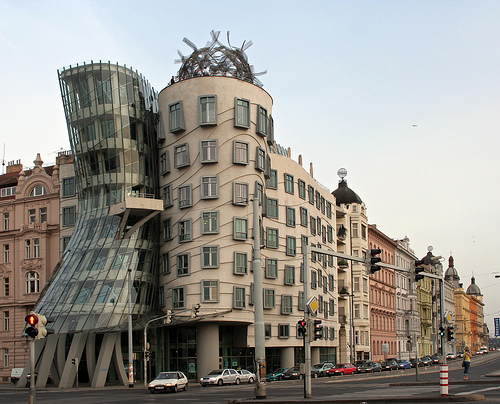 Photo by Tony Hisgett
Related Posts
Tags:
architecture
,
attractions
,
czech republic
,
dancing building
,
dancing house
,
europe
,
flickrimages
,
prague
,
synagogues
Filed in:
czech republic
,
europe
,
prague
Do you have something to add? Please leave a comment.
You can also subscribe to our feed to get future articles delivered to your feed reader for free.