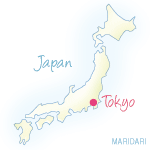 One thing we've learned from meticulously planning for accommodation in Tokyo is not to discount short stay serviced apartments – additional facilities is included (usually a kitchenette, sometimes a washer and dryer) and if you're traveling in a group of two or more, they might be cheaper than staying at a budget hotel.
1 week is the usually required minimum stay but check with the apartment — during off-peak seasons or blocks between tenancy, some apartments may welcome shorter stays.
Apartments vs Budget Hotels in Tokyo – A Personal Experience
Spring is a peak period for visiting Tokyo (cherry blossom viewing or hanami is a popular during this time). If you can avoid this, look out for "Summer Campaigns" and "Autumn Rates" or "Winter Specials" when searching for apartments or hotels and you might be in for a pleasant surprise.
We took advantage of Oakwood Apartments Shinjuku "Autumn Rate" in 2007 and paid less than 10,000 yen a night (for two people, inclusive of tax) for a week's stay. We did our laundry (twice!) using the convenient washer/dryer, relaxed in the bathtub of our hi-tech en-suite bathroom, watched cable channels on the 37″ screen tv and contemplated cooking something on the spanking new stove — luxuries we doubt available those staying at the slightly cheaper Sakura Hotel (8200yen per couple). The apartment is convenient located in Shinjuku, so we had the option of walking 10-15 minutes to the extremely crowded Shinjuku station or take a 2 minute stroll to the nearer, quieter Shinjuku Nishiguchi Station (Toei Oedo Line). Staying in a central location also saved us quite a bit — we're walking distance to the Tokyo Metropolitan Government Building, a few stops away from Shibuya, Harajuku and Yoyogi Park and there's an rapid service (JR Chuo Line) to Tokyo Station (which links to other places we were keen on exploring).
Since we planned on visiting many places in and around Shinjuku, Akihabara, Ginza and Shibuya, we did limit our choices to hotels close to the JR station or the metro stations in those areas but you can get a great deal by staying in a hotels just one or two stops away from these main stations.
Unless you're only in the city for a short stopover, staying in Narita hotels near the airport is not advisable as it will take about an hour to travel to and from central Tokyo. Tokyo Disneyland is situated just outside of central Tokyo in Urayasu, Chiba, so if you're planning to go there for a day or two, you might also want to consider staying in a Tokyo Disneyland hotel. If you're considering staying in a hotel in Odaiba Marine Park, do note that Odaiba is an artificial island in Tokyo Bay. If you're looking for a more "authentic" experience, do a search for ryokan or guesthouses around Tokyo.
Related Posts
Tags:
apartments
,
budget
,
budget accommodation
,
budget hotels
,
furnished apartments
,
self-serviced apartments
,
serviced apartments
,
serviceds apartments
,
short-stay apartments
,
tips
,
tokyo
,
travel tips
Filed in:
accommodation
,
asia
,
japan
,
tokyo
Do you have something to add? Please leave a comment.
You can also subscribe to our feed to get future articles delivered to your feed reader for free.