Austria, not to be confused with Australia, is a landlocked country in Central Europe. It is famous for Sacher Torte, a sinful-looking chocolate cake, classical music composers Mozart, Schubert and Johann Strauss and Sigmund Freud, father of psychoanalysis. The outline of the country takes the shape of Sigmund Freud, facing left with mouth open, right arm outstretched holding a cigar.  Austria is also and famed for its castles, palaces and spectacular mountain scenery.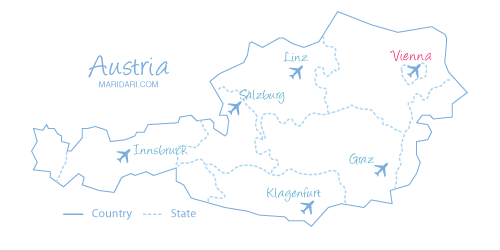 Fast Fact Austria
Full Name: The Republic of Austria


Capital: Vienna (WIen)
Airports :Graz, Innsbruck, Klagenfurt, Linz, Salzburg, Vienna
Language: German, English widely spoken in tourist areas
Currency: Euro €
Climate: Moderate continental, warm summer, high winter snowfall
Area: 83870 sq km
Population: 8.3 million
Tourist Information www.austria-tourism.at
Rough Costs
Daily budget: €40 – €70
Dorm: from €15
Budget hotel: from €50 (double room @ Hostel Pfeilgasse, Vienna)
Food : coffee €2, a slice of original Sacher-torte with all the trimmings from Sacher Hotel about €3, Sacher-torte from other confectionery chains €1
Highlights
Salzburg -Sound of Music tour, Mozart
Vienna - coffee, cake, art
Innsbruck - Austrian Alps and related adventure activities such as hiking, mountain-biking.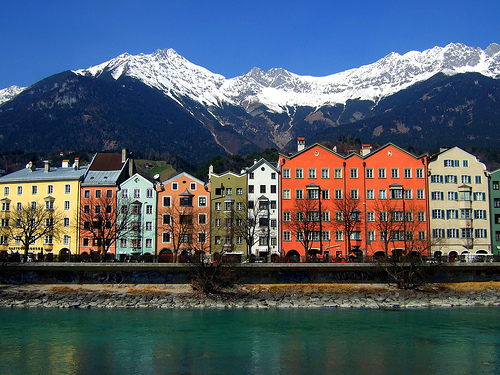 Photo by James Cridland
Hallstatt, Salkammergut -  Picture-postcard village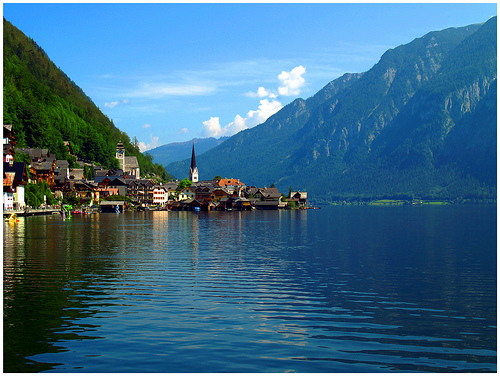 Photo by Oliver Wald
Books
Related Posts
Tags:
airports
,
austria
,
austrian alps
,
europe
,
innsbruck
,
maps
,
photos
,
salzburg
,
vienna
Filed in:
austria
,
europe
,
general information
Do you have something to add? Please leave a comment.
You can also subscribe to our feed to get future articles delivered to your feed reader for free.