France is a star-shaped country in Western Europe. It is famous for the Eiffel Tower, croissants, wine, cheese. Paris, its capital, is often called a city of romance and love. I'm not sure if cheese and romance can actually go together – when I had cheese-breath, no one would want to even get near me.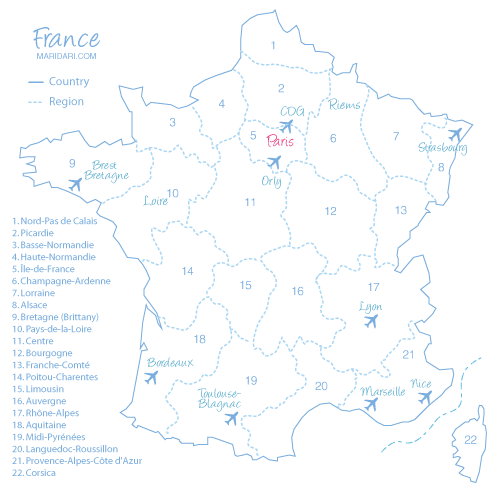 Fast Fact France
Full Name: French Republic


Capital: Paris
Airports : Paris-Charles de Gaulle, Paris-Orly, Strasbourg, Brest Bretagne,   full list of airports in France
Language: French
Currency: Euro €
Climate: Northern France has a temperate climate warm summers, cold winters and rainfall throughout the year, Southern France has a Mediterranean climate with hot summers and mild winters,
Area: 674840 sq km (including Corsica)
Population: 64.2 million
Tourist Information: France Guide
Rough Costs France
Daily budget: €30 – €60
Dorm: from €12
Budget hotel: from €55 (double room at Hotel de la Terrasse, Paris)
Eat: Pastries from €1, Wine €2.50
Highlights France
Paris - Louvre Museum, Eiffel Tower, Arc de Triomphe
Bretagne (Britanny) – Rugged coastline, lush countryside
Reims - Champagne country
Côte d'Azur (French Riviera) – Arles, Marseilles, Nice, Avignon, warm Mediterranean weather
Loire - Chateau country – beautiful chateaux and gardens at the Loire Valley
Books and Maps France, Paris
Related Posts
Tags:
bretagne
,
brittany
,
cheese
,
côte d'azur
,
europe
,
food
,
france
,
french riviera
,
paris
,
reims
Filed in:
europe
,
france
,
general information
,
paris
Do you have something to add? Please leave a comment.
You can also subscribe to our feed to get future articles delivered to your feed reader for free.