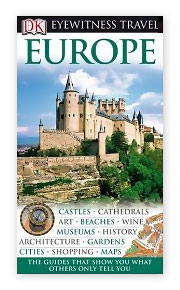 When we began planning for our trip to Europe, we literally had no idea where to start. This travel guide — Europe (DK Eyewitness Travel Guides) –
came to the rescue. It highlights the best of European cities with features such as top places of interest with 3-d cross-sections of selected buildings.  As with other DK books, this guide is packed with beautiful photographs, maps and illustrations so let your eyes lead you.
Though expectedly not as comprehensive as guide books written specifically for a country or city, this book has helped us pin down the cities we'd like to explore in western Europe, which is the focus of this book. For our trip, we used this book to narrow down the places of interest we'd like to explore and then get the city or country guides for places we planned to stay on for more than 2 days.
For our trip, we used the above-mentioned extensively plus the following:
DK Eyewitness Travel Guide Series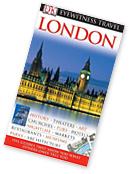 The DK series will always have the edge for us because of its infographics-heavy explanations, which we are a sucker for. We also believe that travel is a feast for the eyes as much as anything else and the books do deliver in this sense.
London,
Great Britain

The Netherlands
(stunning infographics and informational walking tour recommendations here)
Germany
(we only visited Rothenburg ob der Tauber, but this book was useful nonetheless)
Vienna
(really wished there was one for Innsbruck, Austria!)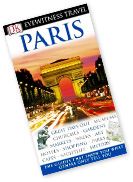 Switzerland
(the book did not capture the absolute beauty of the alpine countryside, but then again who can?)
Paris,
France

Florence & Tuscany,
Venice & the Veneto,
Rome,
Italy
(spent the most time in this country)
Prague,
Czech and Slovak Republics
Rick Steves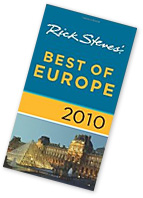 Rick Steves' series feature great little tips and tricks to use for your travel in Europe. His guides read more like someone's travel journal and are chock-full of useful workarounds and cute hand-drawn (though not very accurate) maps and tables.
Rick Steves' Best of Europe

Rick Steves' Europe Through the Back Door: The Travel Skills Handbook
Eurail Guides
Europe by Eurail 2010: Touring Europe by Train

Frommer's Europe by Rail
All the above, coupled with advice from friends, travel forums, individual city websites, planning tools (train timetable, ticketing and route finder websites such as German-based DB Bahn, Austrian-based OBB, Swiss-based SBB) and phrasebooks, provided us with most of the information we needed to relatively breeze through Europe.
We'd recommend Europe by DK Eyewitness Travel Guides
as a helpful book to use in the initial stages of planning as it has a enough general information about a place to get you started. Handy though a handful at 2.2 pounds, this was the only book (in addition to self printed guides from information collated from various websites) we brought on our month-long European trip because it provided an good overview and useful pointers of the places we'd be visiting.
Related Posts
Do you have something to add? Please leave a comment.
You can also subscribe to our feed to get future articles delivered to your feed reader for free.