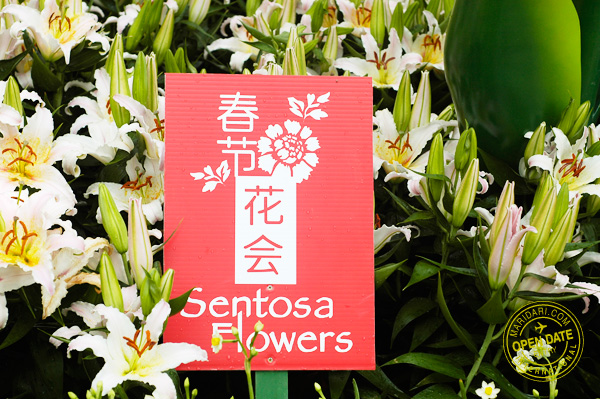 Who is crazy enough to visit Sentosa during a public holiday in Singapore? We are! We visited the Sentosa Flowers 2011 on the second day of Chinese New Year!
Here's a little information about Sentosa Flowers 2011 from the official website:
"Sentosa Flowers is the most celebrated flower exhibition during Chinese New Year. Known as "Chun Jie" or "Life flourishes in Spring" in Mandarin, this event signifies an auspicious beginning to the year. Sentosa Flowers floral extravaganza returns for the sixth time to usher in the Lunar New Year. This year, Sentosa Flowers is themed "Spring Wonderland" as Spring is considered the most beautiful season of all. Most flowers bloom during this time and they come in all colours of the rainbow."
Sentosa Boardwalk
The Sentosa Flowers experience starts from the recently opened Sentosa Boardwalk, located near VivoCity shopping mall. There are signs in the shopping mall with directions to the boardwalk.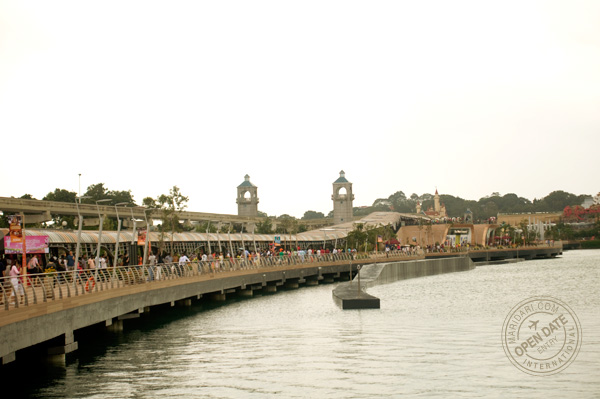 Sentosa Boardwalk, which officially opened in late January 2011, connects VivoCity waterfront promenade to Sentosa Island. The boardwalk  is free to use and has a covered walkway with two-way travellators. To get into Sentosa Island, you have to pay the island admission fee, which is $1 by foot via the boardwalk. You can use your transit EZ-link card for payment at the gate.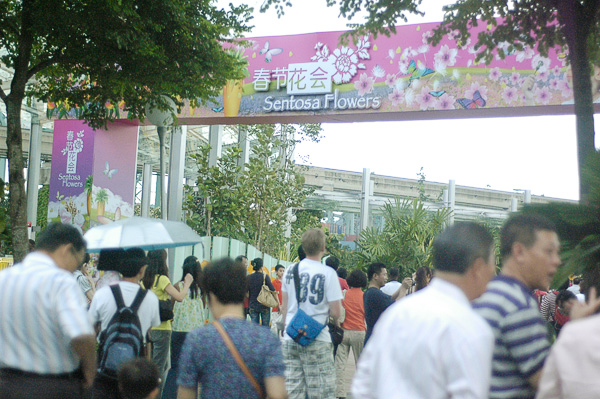 Sentosa Flowers
Before visiting the flower festival, you will need to manage your expectations.The weather in Singapore can be quite hot and wet right now and most often than not it is both hot and wet outside, this being the rainy season in Singapore. If you happen to descend upon Sentosa on a public holiday like we did, it would most definitely be very crowded too. Wear comfortable footwear, light clothing and carry an umbrella.
The posters promoting this event include pictures of never-ending carpets of tulips and other flowers on rolling hills in a plethora of rainbow colors but be warned that this is no Keukenhof and the only tulip blooms you'll actually get to see are giant 2.5m fibre-glass ones at Imbiah Lookout. It is still a quite a fun way to spend some time with the family outdoors.
Resorts World Sentosa FestiveWalk
After the Boardwalk, we made our way to Resorts World Sentosa area to continue to check out the flowers around FestiveWalk. You can see the gigantic Fortune Rabbit there, opposite the Universal Studios entrance. Standing 4 .5 storeys or 14 metres high, it is the largest and tallest topiary rabbit is one the centrepiece of Resorts World Sentosa's Lunar New Year celebrations.
Green and yellow chrysanthemums at Festive Walk.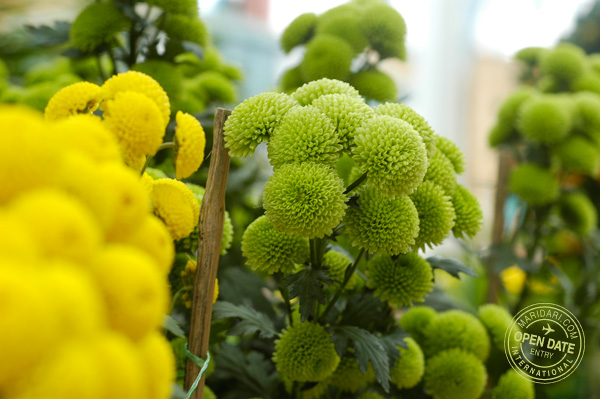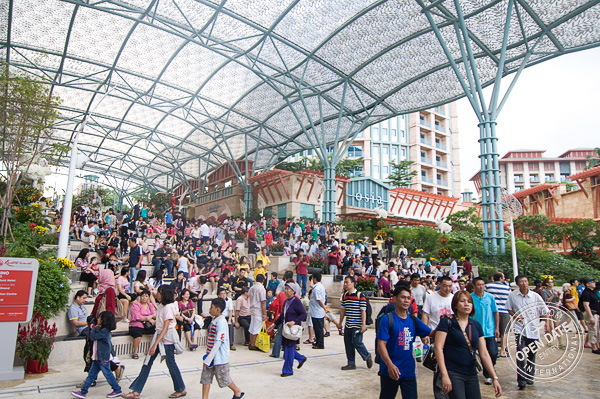 Crowd near the Lake of Dreams.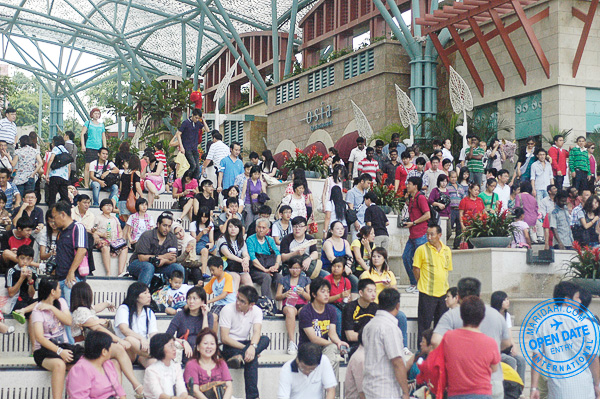 Resorts World Sentosa logo fully covered in real roses. Oh, and real mandarin oranges plant. Some of the fruits have been plucked off the tree, we suspect by the end of the week, all the fruits may be gone.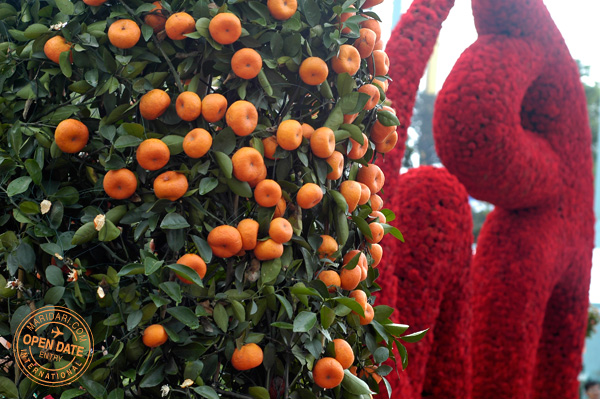 Imbiah Lookout
There were too many people around Merlion Plaza, so we didn't take much photos there. We made our way to Imbiah Lookout next. This section has the most number of flowers.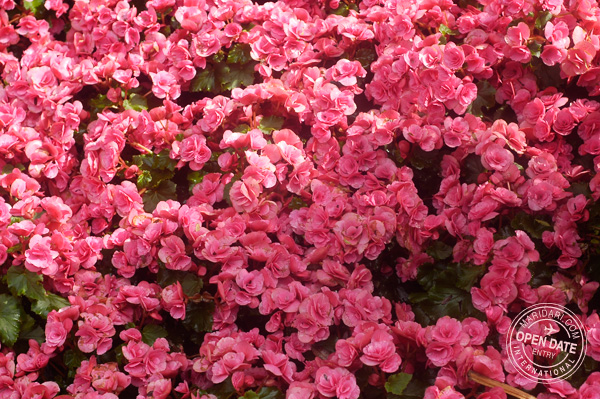 Yellow flowers…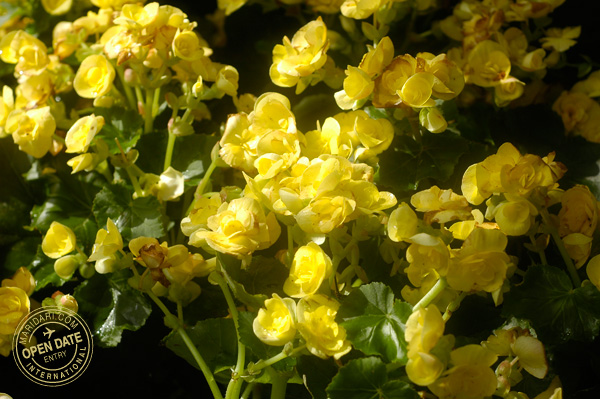 Bunches of pink flowers.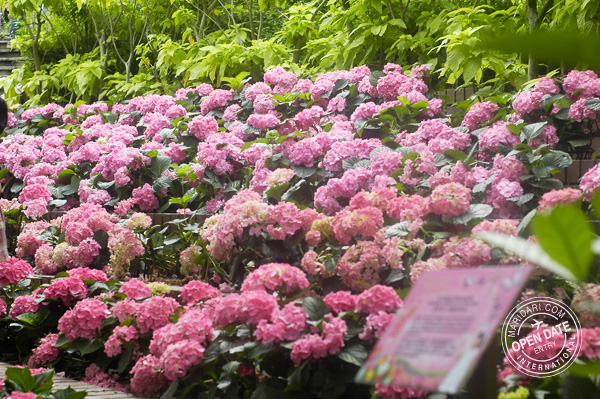 Fragrant lilies surrounding the fake giant tulips.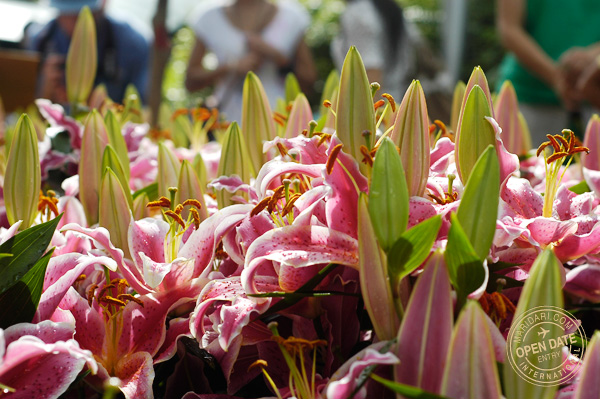 It's the Lunar New Year of the Rabbit, so you'll see a lot of bunny statues like this one which looks like it's going to naturally fertilize some of the flowers there.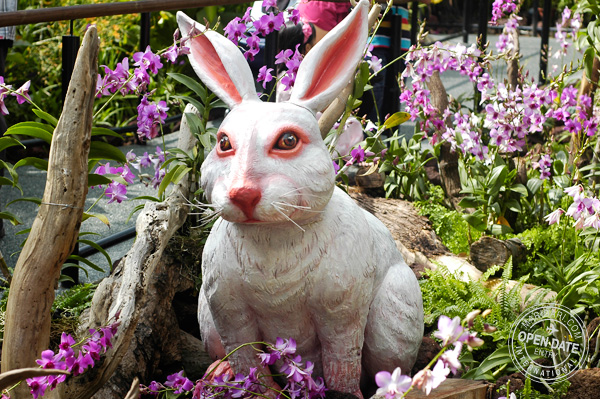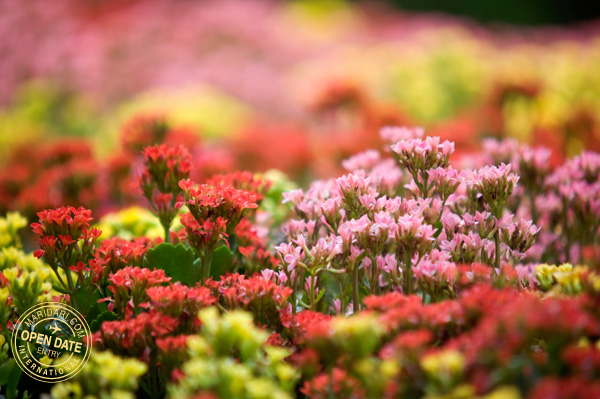 Real flowers framed by larger fake ones.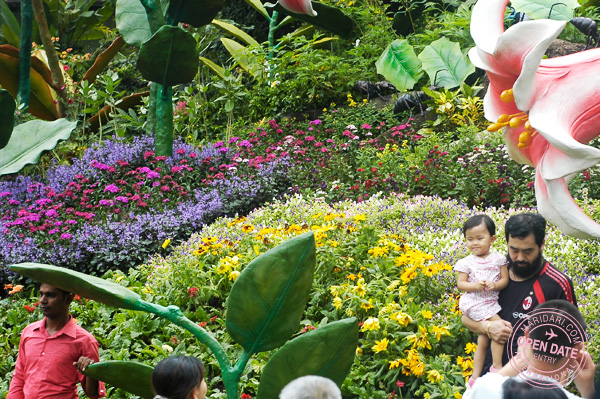 On our way back… we took the travellator to VivoCity. A lot of people were still making their way to Sentosa Island via the boardwalk at 6pm. Visiting hours are extended to 10pm for this period.
Sentosa Flowers is a free event but you'll need to pay Sentosa Island admission and transportation charges at prevailing rates. If you're going into the island by foot, like we did, you can use your EZ-link card to pay for the admission fee at the gate, which is $1.
Related Posts
Tags:
flower
,
flowers
,
resorts world sentosa
,
sentosa
,
sentosa boardwalk
,
sentosa flowers
,
sentosa flowers 2011
,
singapore
,
vivocity
Filed in:
asia
,
general information
,
singapore
Do you have something to add? Please leave a comment.
You can also subscribe to our feed to get future articles delivered to your feed reader for free.