Sakura Season 2012 is just around the corner. When do sakura trees bloom in Japan this year? For those of you planning to visit Japan for a spot of hanami (??or flower viewing) during the beautiful cherry blossom season this Spring, here is the Japanese Cherry Blossom Forecast for 2012 (??????? 2012), data provided by WeatherMap Japan.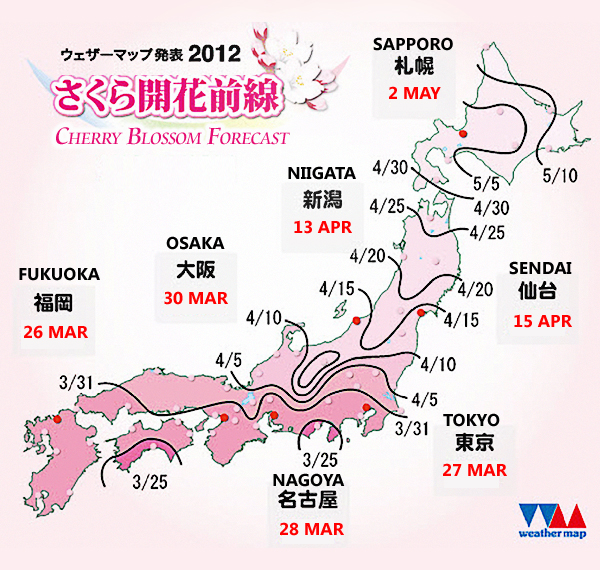 The forecast map shows the dates the sakura flowers start to bloom in different parts of Japan — including Tokyo, Osaka, Sapporo, Niigata, Fukuoka, Sendai and Nagoya. The peaks of the blooms are usually about 1 week after the start dates indicated. The forecast is done on 1st March 2012 and weather conditions are subject to change daily.
At the time of posting, the 2012 Sakura Blossom Forecast (start of Japan cherry blossom season 2012) reads: Tokyo — 27 March , Nagoya — 28 March, Fukuoka — 26 March, Osaka — 30 March, Niigata — 13 April,  Sapporo — 2 May.
Sakura full bloom forecast for 2012 (peak bloom) : Tokyo — 4 April, Nagoya — 5 April, Fukuoka — 4 April , Osaka — 6 April , Niigata — 18 April, Sapporo — 6 May.
For latest updates, visit http://sakura.weathermap.jp/ (the site is entirely in Japanese).
Related Posts
Tags:
cherry blossom
,
cherry blossom report
,
forecast
,
fukuoka
,
japan
,
nagoya
,
niigata
,
osaka
,
sakura
,
sakura bloom report
,
sakura forecast
,
sapporo
,
sendai
,
tokyo
Filed in:
asia
,
japan
,
tokyo
Do you have something to add? Please leave a comment.
You can also subscribe to our feed to get future articles delivered to your feed reader for free.